Regular price
$128.00 USD
Regular price
Sale price
$128.00 USD
Unit price
per
Sale
Sold out
🔸 Crafted from 𝗵𝗶𝗴𝗵-𝗾𝘂𝗮𝗹𝗶𝘁𝘆 solid brass, it's designed to last a lifetime and develop a beautiful patina over time. 🔸 Our tipping rail provides 𝘀𝘂𝗽𝗽𝗼𝗿𝘁 and protection to keep your precious items safe from falling. 🔸 𝗖𝘂𝘀𝘁𝗼𝗺 𝘀𝗶𝘇𝗲𝘀 available! We understand that each space is unique, so we offer custom sizing to ensure the perfect fit for your home. 📏
View full details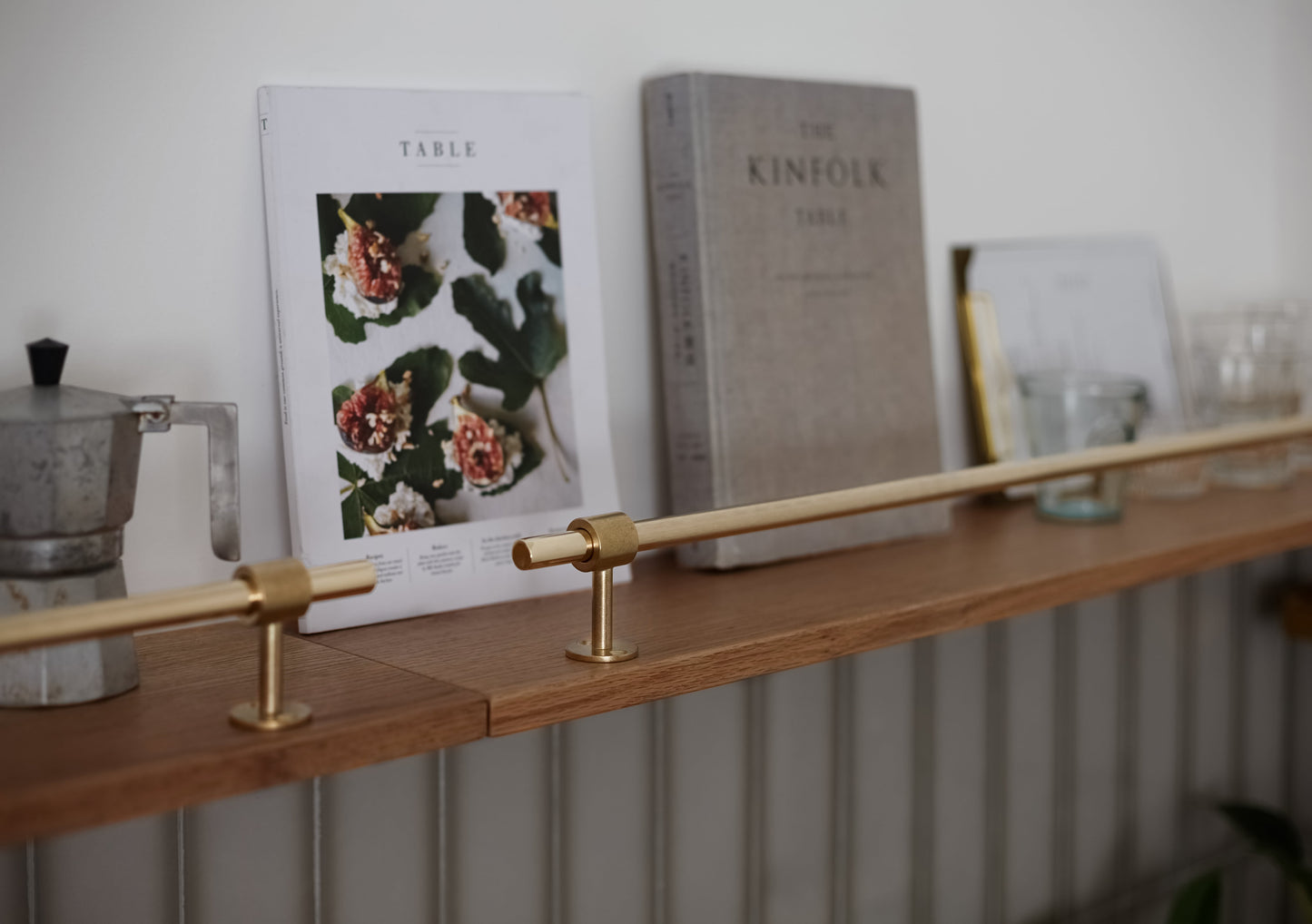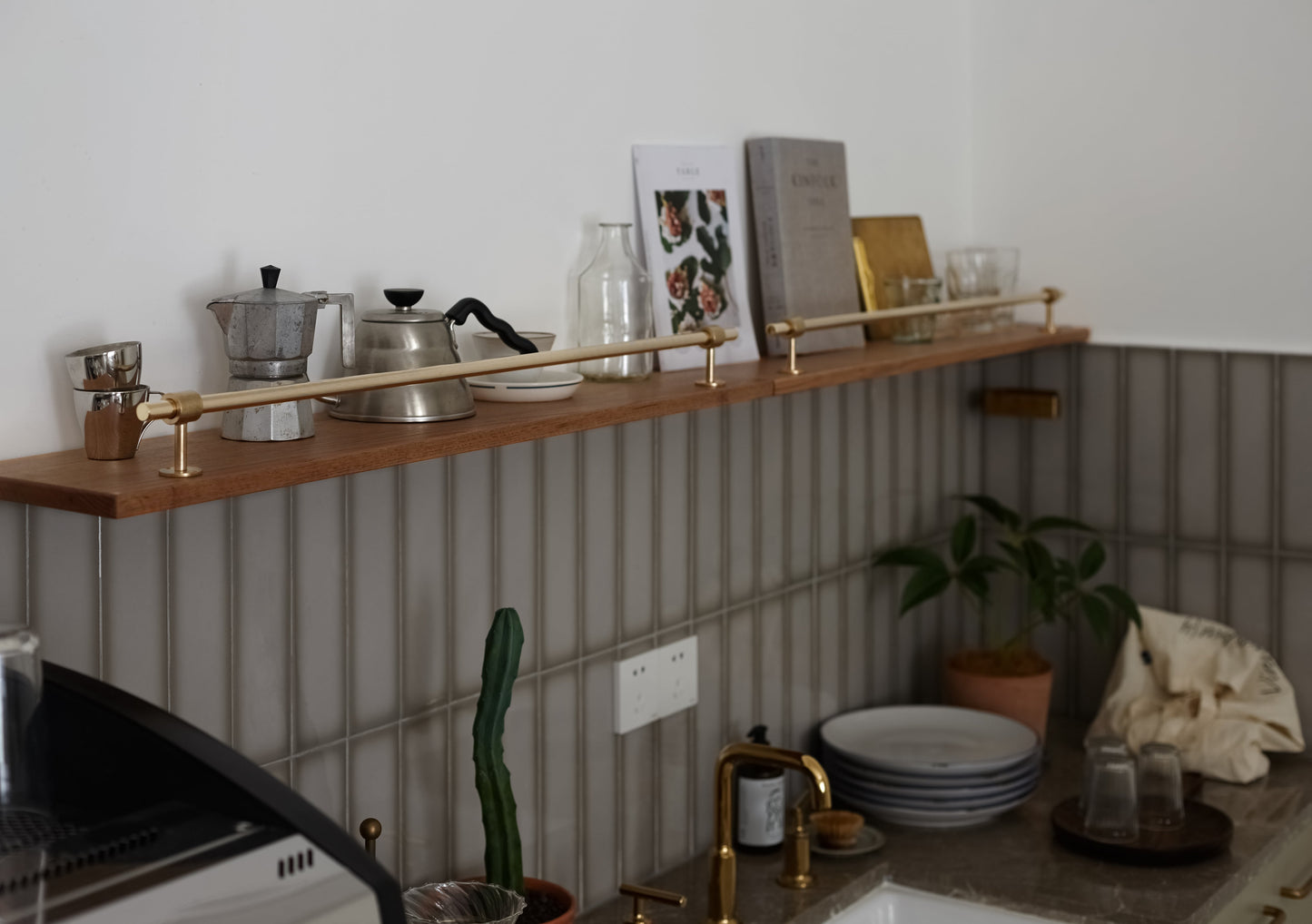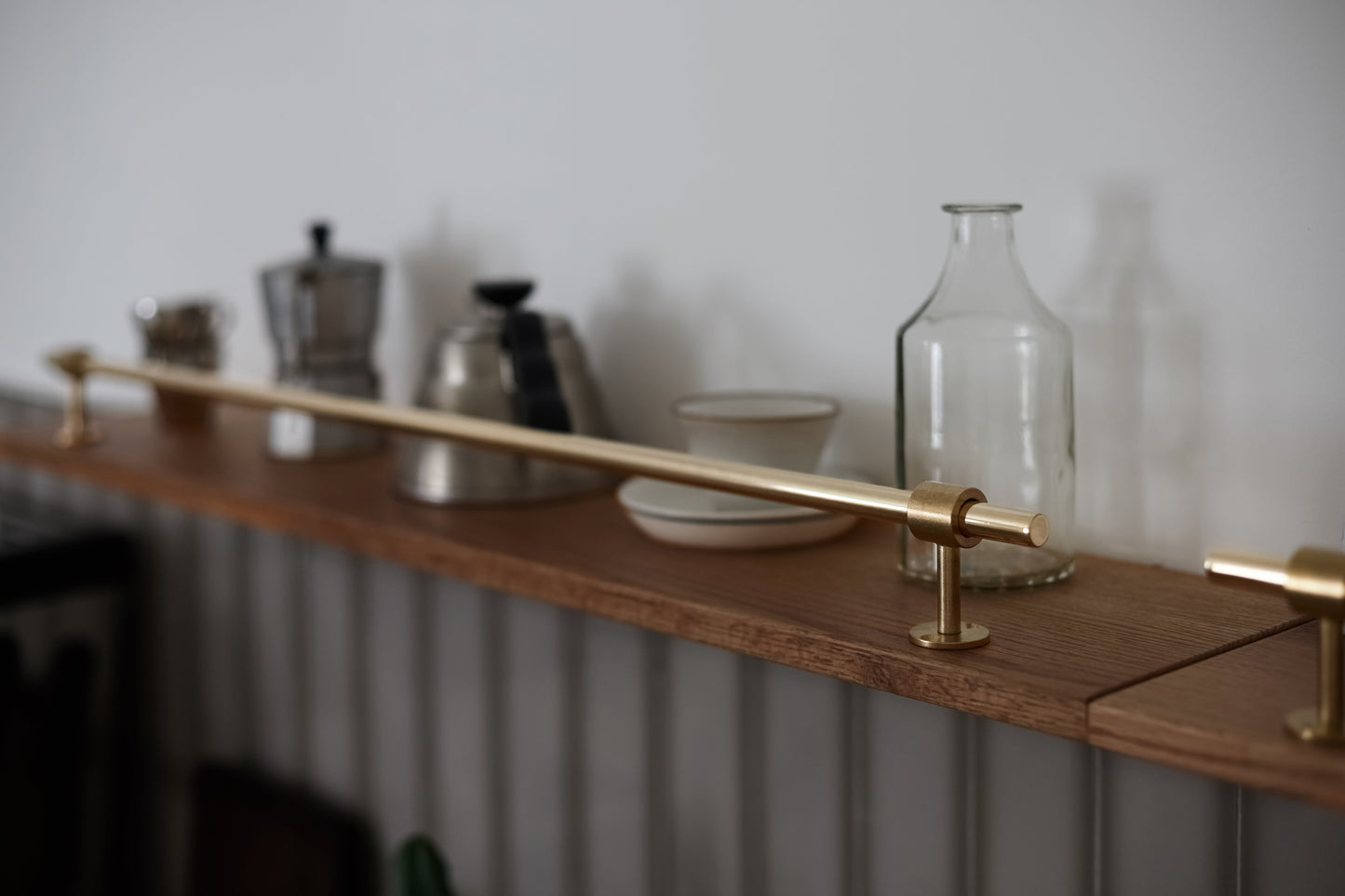 Product Details
Specification

Rail Dimensions:
Small: L 600mm (Approx. 24 inches)
Medium: L 900mm (Approx. 35.4 inches)
Large: L 1200mm (Approx. 47.2 inches)
Diameter:15mm (Approx. 0.6 inches)

Other custom length, please select the range and note your ideal length.

Bracket Dimension:
Diameter: 3.5 cm (Approx. 1.38 inches)
Height: 6 cm (Approx. 2.36 inches)

With your purchase, you will receive the following items:

Brass Rod: 1 piece
Brackets: 2 pieces

Description

Bold Elegance in Every Inch
Add a splash of grandeur to your interiors with our 15mm Brass Rods. Meticulously designed from solid brass, these rods merge functionality with pure sophistication. Its polished, unlacquered finish captures the very essence of brass, ensuring a touch of timeless class wherever they're placed. Whether you're looking to elevate your closet, hallway, or kitchen, these rods are the perfect fit, promising both unmatched strength and unparalleled style.

Brass that Dazzles and Delivers
Think of your home adorned with the soft golden shimmer of brass that not only looks divine but also offers a sturdy grip to your belongings. With our Brass Rods, you get an accessory that isn't just a supporting player but a star on its own. Embodying the delicate balance of aesthetic beauty and exceptional strength, these rods are a testament to exquisite craftsmanship and a lifetime of luxury.

Your Space, Your Brass Masterpiece
Our Brass Rods are all about YOU. Everyone's space tells a story, and with the option to customize the length, your tale is bound to be unique. Whether you're sprucing up a snug space or a lavish lounge, our rods promise to be the perfect fit. Dive into customization and let your interiors radiate with an unmatched golden gleam.


Key Features

The Brass Rods boast a diameter of 15mm (Approx. 0.6 inches), providing strength and durability to support your belongings securely.

Crafted from solid brass, these rails exude a timeless elegance that adds a touch of sophistication to any setting. The unlacquered, polished finish further enhances their aesthetic appeal, allowing the natural beauty of the brass to shine through.
F&Qs
Shipping & Returns

Free shipping.

Processing Time: 3-5 Business days

Etimate Delivery: 5-14 Business days

United Kingdom: 4-6 business days.

United States: 5-7 business days.

Canada 6-12 business days.

France 6-12 business days.

We accept return and refund.

Detailed refund and return policy please read return policy page in the bottom.
About us

Shop with confidence knowing that our Shopify store is operated by a registered company in the United Kingdom.


Our commitment to transparency and ethical business practices means that you can trust us with your purchases.


We take pride in offering high-quality products, exceptional customer service, and secure payment options. Join our loyal customer base and experience the peace of mind that comes with shopping with a registered company.
Adaptability to Different Electrical Supplies

Our pendant sets are suitable for UK, EU, US and Canada electrical supplies. We will send the appropriate fitting based on the delivery address provided. We are delighted to offer plug in version. Please contact us for further information.

CE/ UL/CSA Certificated

We are pleased to offer a comprehensive three-year guarantee on all our light fixtures. At our company, we prioritize customer satisfaction and the quality of our products. With this guarantee, you can have complete peace of mind knowing that your purchased light fixtures are protected against any defects or malfunctions for a period of three years from the date of purchase. Should you encounter any issues during this time, simply contact our customer support team, and we will swiftly assist you in resolving the matter. Our commitment to providing durable and reliable lighting solutions is reflected in this extended warranty period, ensuring your satisfaction and trust in our products.
Make It Yours: Personalization

Personalization Service Now Available!

Cord Length

Cord Colour

Plug in Wall Light/Pendant Light

If you would like more information about our personalized services, please don't hesitate to contact us.
Sustainable Package

♻️We care about sustainability.Our commitment to the environment is reflected in the materials we use to package your purchase. We use sturdy, biodegradable cardboard boxes made from recycled materials, and we wrap your items in biodegradable plastic that breaks down quickly in the environment.
Worth the Wait!!
I recently had the pleasure of adding a solid brass gallery rail to my living space, as recommended by my interior designers. Let me tell you, the wait was absolutely worth it! The quality of this gallery rail is simply outstanding.
Impressive Quality and Stylish Addition to Any Space
I recently purchased a brass gallery rail for my home, and I couldn't be happier with my decision. The quality of this product is truly outstanding. From the moment I opened the package, I could tell that it was crafted with precision and attention to detail.
Excellent Quality & Packaging
This Brass Tipping Rail is well worth the purchase. The quality is top-notch, and it's evident in the product's substantial weight. What impressed me further was the robust packaging, ensuring the item was delivered in perfect condition. It truly deserves high praise.
Hesitation Turned Satisfaction
Initially, I was on the fence about this purchase. However, now that I have the Brass Tipping Rail, I realize it was worth every penny. The heft of the rail is indicative of the quality of materials used. And I can't leave out mentioning the patience and professionalism of the customer service team. They made the buying process smooth and worry-free.
Great quality! The seller made a custom order for us and it looks great